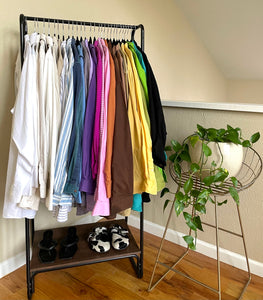 WHAT ARE STYLE BOXES?
our style boxes are designed to help nurture your personal style and keep you feeling confident in the clothes you wear. if you're looking for an easy way to refresh your wardrobe with some of the best pieces oluchi vintage has to offer, then our style boxes are the perfect solution for you!
WHAT YOU GET
each style box is curated by yours truly with a mix of vintage and pre-loved items. you will receive a box filled with 5-10 hand-picked items that match your personal style, current wardrobe needs, and preferences. the items in each box will be selected to compliment one another and can be styled together, or used to freshen up items you already own & love.
sample box combinations include:
· outerwear + 2 tops + 2 bottoms
· 3 tops + 3 bottoms + 1 accessory
· 5 tops + 5 bottoms
· up to 10 bottoms // a mix of casual pants + skirts, shorts, and trousers
· up to 10 tops // a mix of graphic tees + button ups, blouses, and sweaters

HOW IT WORKS
after you purchase a style box, you'll be sent a link to a short questionnaire to help me understand your needs and preferences.
are you a neutrals girlie? are you only in the market for sets? do you need more blouses? this questionnaire is your chance to be specific about your needs to get the most out of the style box. once your responses have been logged, you'll receive a follow up email from me confirming your selections and letting you know what combination of items your box will include.
i will also use this as an opportunity to confirm your measurements to ensure the items you receive are a perfect fit! your items will be professionally cleaned and tailored if needed. please allow up to four weeks for delivery.